While camping in southern Vermont with friends, we had the opportunity to go explore some of the trails Vermont has to offer. We selected a trail fairly close to our campsite, near the southern end of the Green Mountain and Finger Lakes National Forests.
I was pretty excited for the trial run of my budget storage system – I was finally able to place tiedowns exactly where I wanted them. The fridge, Goal Zero, Pelican case (containing tools and recovery gear, as well as a few other things), chainsaw and first aid kit are all nicely strapped down.  A proper fire extinguisher mount is on the list as well, but hasn't been done yet.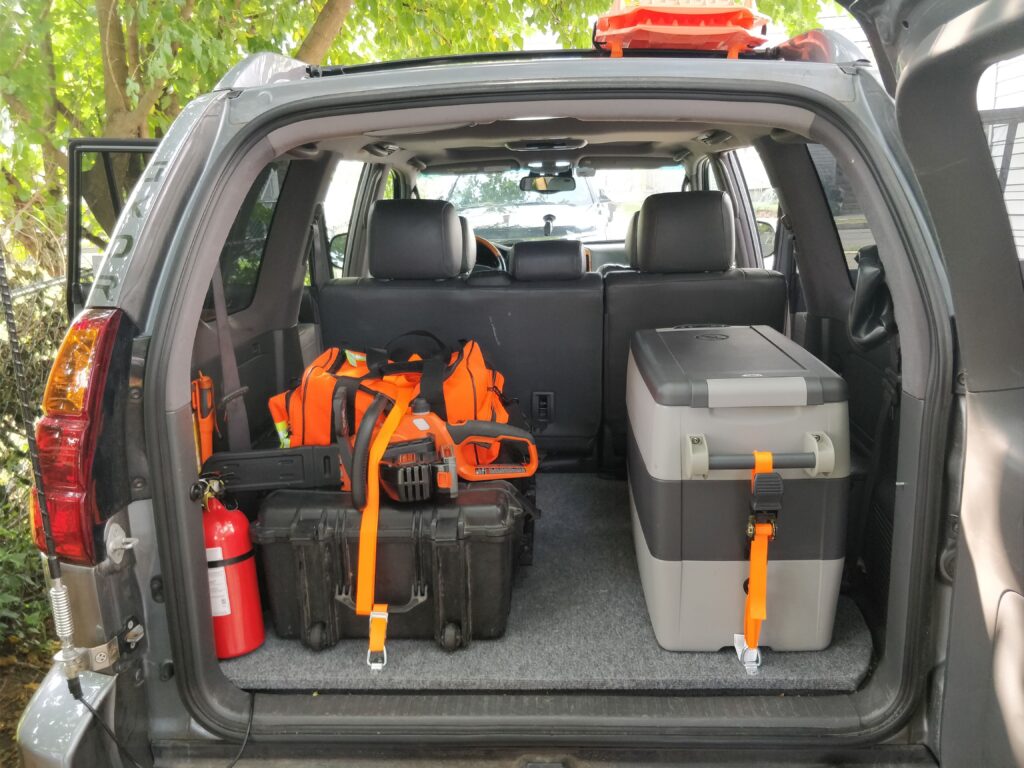 We arrived at our campsite on Friday and got settled in. When Saturday rolled around, we needed something to do so the exploration began. We were off to a promising start with a relatively narrow dirt road that vanished into the forest.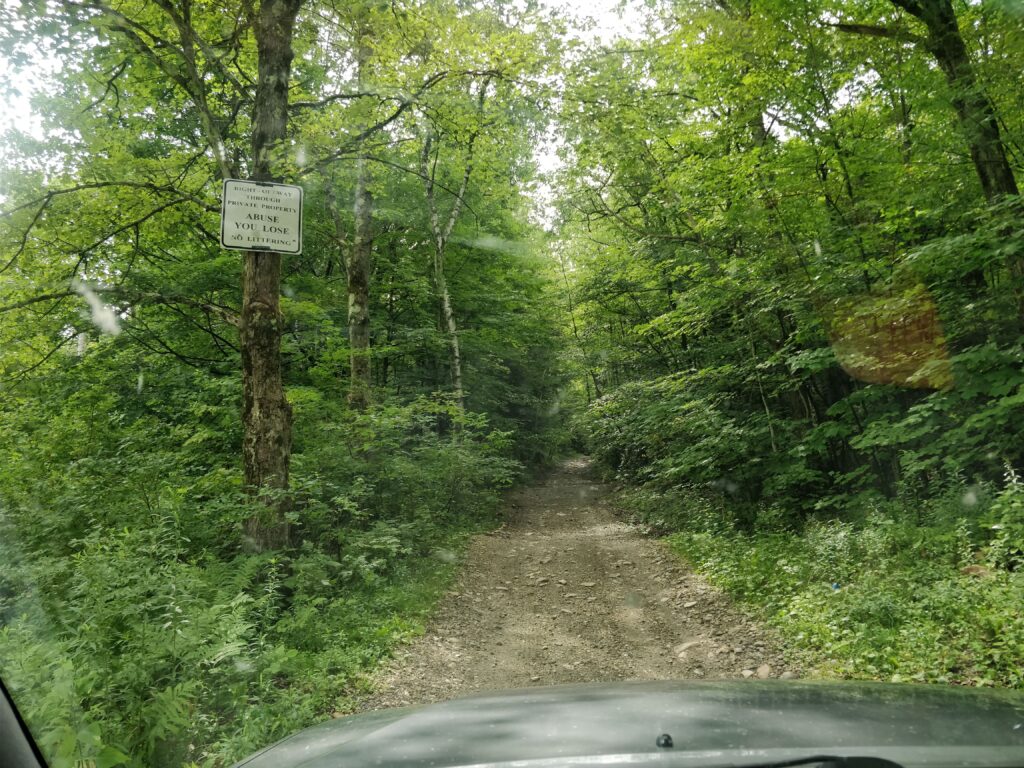 The amount of trash on the trail was utterly astonishing.  Just in the first mile or two, we ran across an old house phone, a diaper, old underwear, a Lucas oil bottle, various beverage containers – Dunkin, KFC, Gatorade, and countless cheap beer bottles/cans/cases, as well as larger trash such as a burn pile (with a mattress and wheel, among other nastiness) and various automotive parts.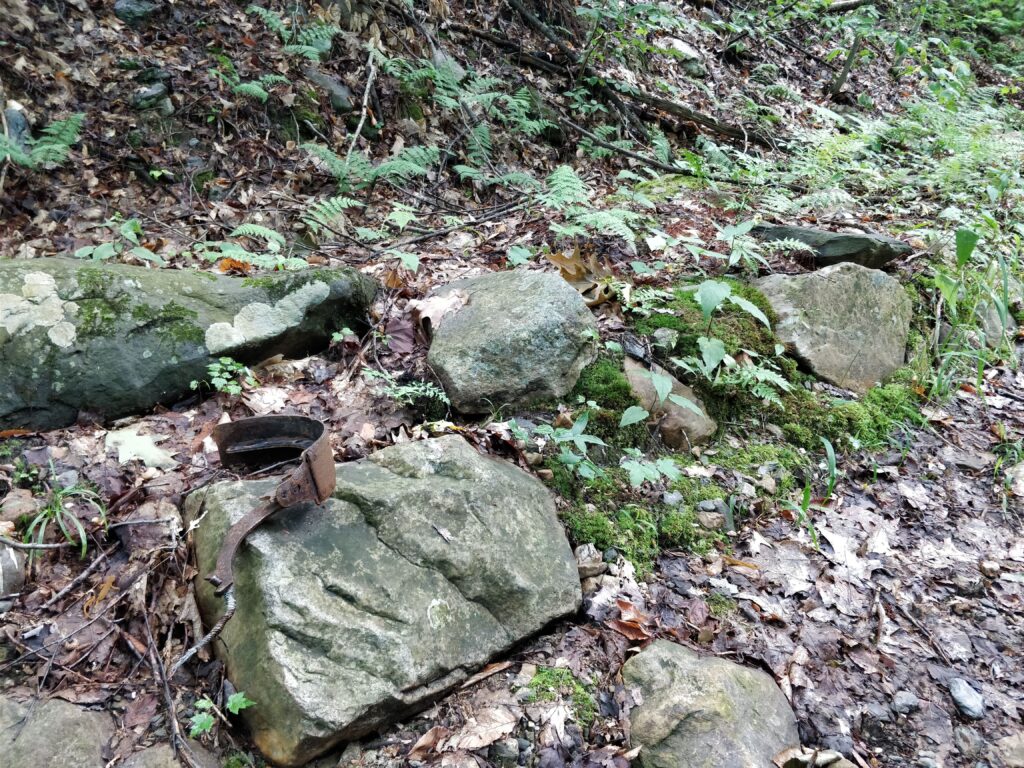 We filled the only bag we happened to have with us – I may need to figure out how to mount a Trasharoo before I have a tire carrier, because we could have taken a lot more out if we had the space.
Things got a bit wet as we continued on, but poking each puddle with a stick revealed hard ground only a few inches below the surface. We pulled an old pine tree a bit further to the side to make more room in the trail.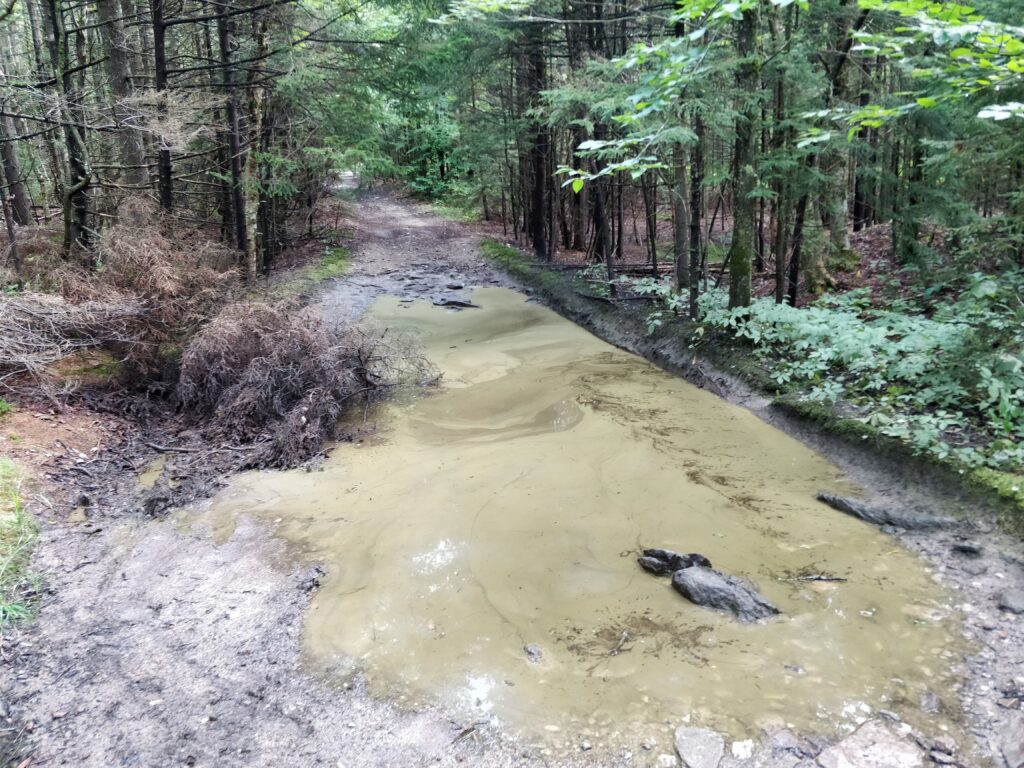 The puddles continued for some time.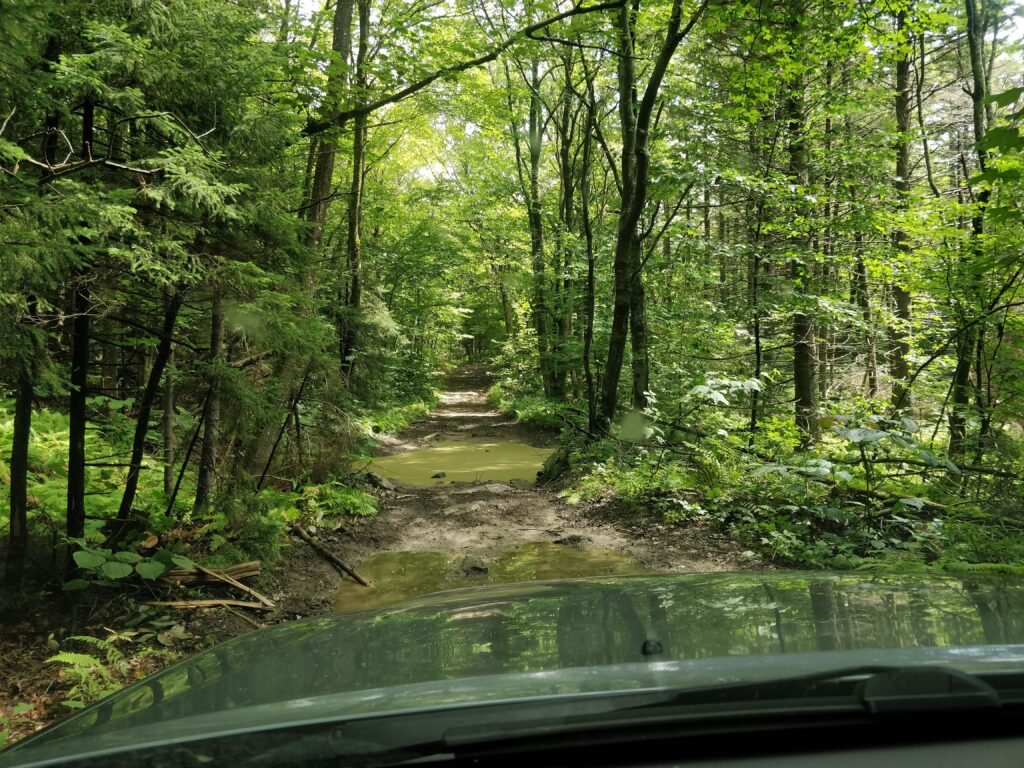 Clearing this area effortlessly, we started to find sections where a little bit of ground clearance came in handy.  Still nothing too challenging even for a stock SUV, but it was a nice change of pace.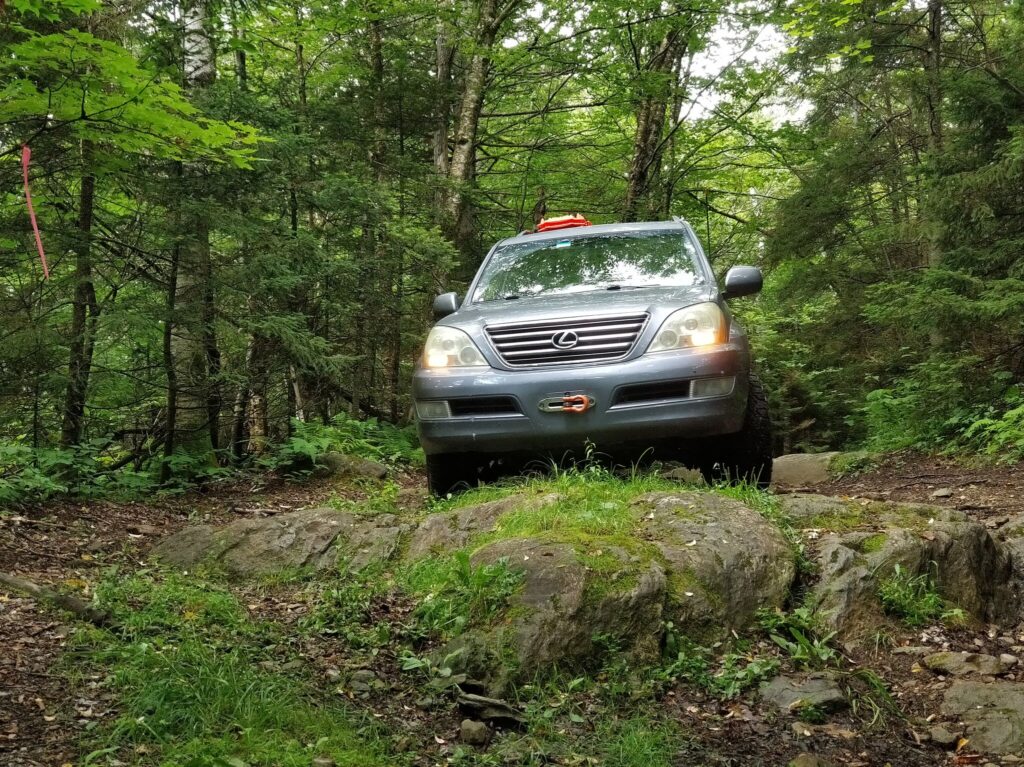 Eventually we came to an old wooden ATV/snowmobile bridge.  It did not look like it would safely bear the weight of the GX and the trail also went around it.  In order to avoid damaging the bridge, we followed the bypass – again after poking it with a stick. The mud seemed tolerable, though I was a bit concerned about the exit – the ruts were fairly deep, with a high grassy mound in between them. It was a tight squeeze between the bank and the bridge, but we made it by.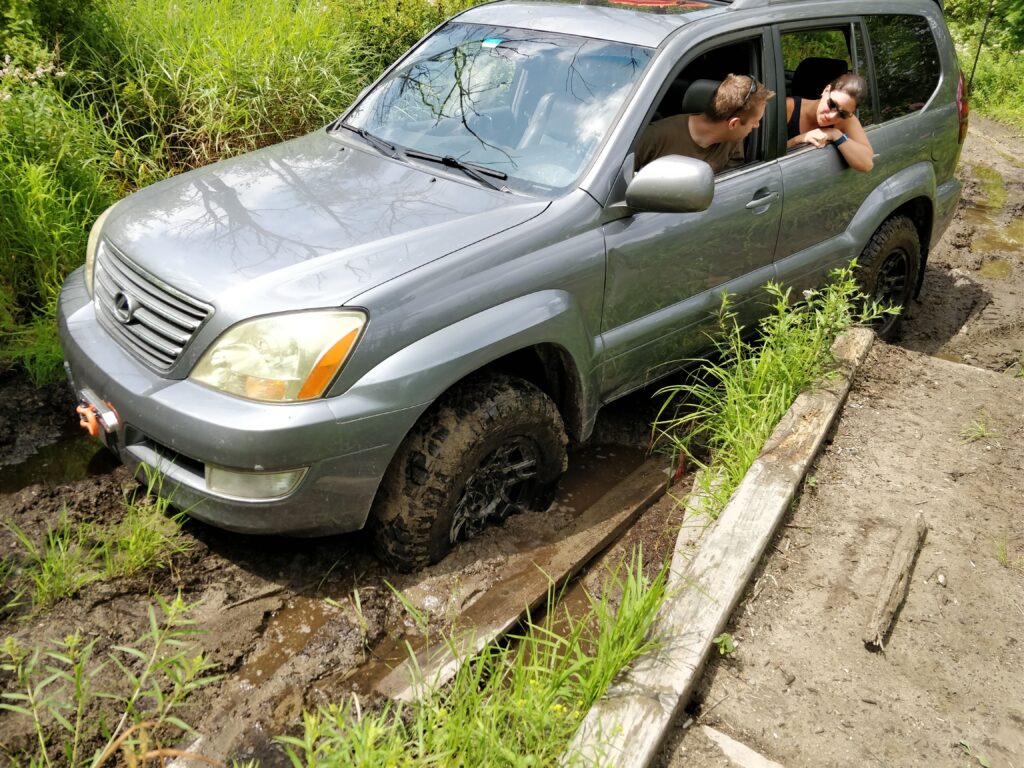 The ruts on the far side proved to be a problem, though.  My front skidplate bottomed out on the grass and my tires began to spin, so I backed up and gently tried again.  We were unable to get through after a few tries, so in order to avoid destroying the trail and potentially burying the truck, we elected to winch through. A properly sturdy tree was selected and the tree saver was wrapped around it.
The Engo SR9S didn't break a sweat – a few minutes later, we were clear.
We ended up taking a wrong turn where the trail branched off – fortunately it was noticed before we went too far. We took the opportunity to break for lunch.
After carefully turning around, we headed back the other way to pick up on the right trail.
My 20v Black and Decker chainsaw was used a few times to clean up some small trees that were in the trail, and we managed to kill the only battery I had with me while attempting to cut through a ~9″ hardwood trunk that had fallen far enough into the trail that people had driven around it, causing the trail to become unnecessarily wide.  With a second battery (or enough time to allow this one to cool down), we probably could have finished it up.  Maybe next time.
And then, we came to a small water crossing. According to the map, was the first of two in about a quarter mile of trail.  We decided it'd be prudent to walk ahead and make sure that the second crossing was something we could handle, otherwise we would simply turn around and go back – probably winching our way through the mud once more.
The second water crossing proved to be smaller than some of the puddles we had driven through earlier, so onward we went.  This crossing was easy, with shallow water and a rocky bed providing excellent traction. The climb back up the other side was steep and narrow, requiring spotting and careful driving to avoid widening the trail on the passenger side, or scraping the driver's side against the tree and hillside.
With that, we were most of the way to a proper dirt road. We picked up the road and made our way back to civilization.
Overall it was a great little trail and I look forward to exploring more of what Vermont has to offer.
Lessons learned: bring more trash bags and more chainsaw batteries.